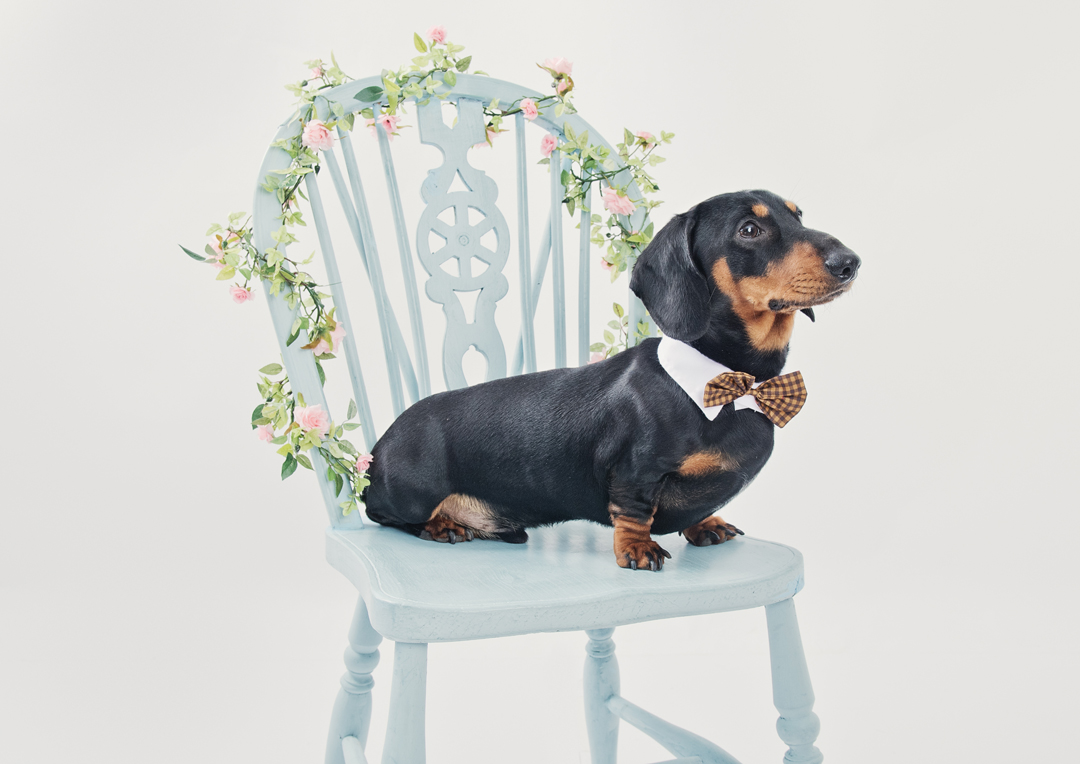 Dog Portrait Photography in Somerset
These two handsome chaps Archer & Buddy visited me in my Somerset studio, close to Bridgwater, for a dog photo shoot. Archer is a dachshund ( sausage dog!) and Buddy veteran lurcher , both with loads of bounce in them.  Both of them are mummy's boys very loyal to their mum but a few sausages pieces enticed them to do a few poses!  The test was to try to get them together in one image – their mum wasn't sure it could be done – but we worked very hard to keep them still for a second and we got it.  We got a few out-takes as well, that made me laugh!  Buddy's favorite prop was the soft blanket – very much like the sofa at home – nice and comfortable.  Archer preferred the suitcase and kept jumping back in, to settle down for a rest.  It happened to be valentines on the day of the session so we were going to try to get both boys holding a rose in their mouth ( we obviously made the roses safe and thorn free) – both no luck – so we moved on to plan two.   Have a look at some of my favorite portraits below.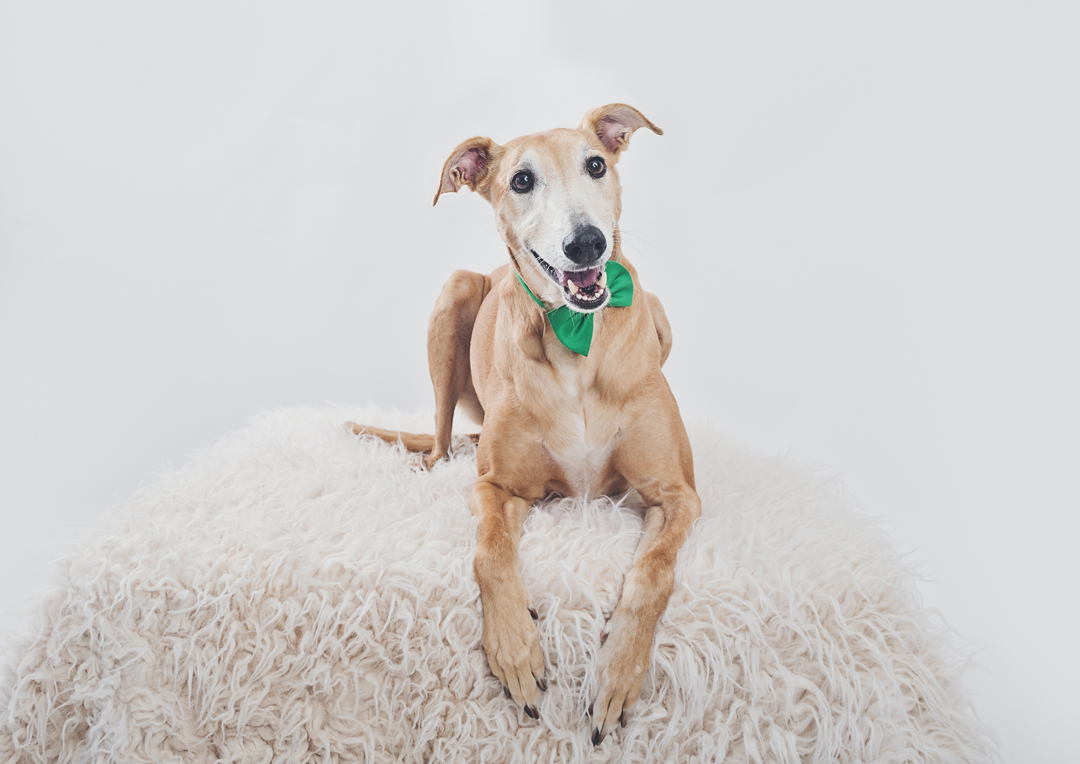 Some interesting facts about dachshunds & lurchers.
Dachshunds come in 15 Colors & 3 coat types.
"While you are probably used to seeing red, black & tan and dappled sausage dogs, did you know they come in 15 colors and 6 marking combinations? Colours include: black & cream, black & tan, blue & cream, blue & tan, chocolate & cream, chocolate & tan, cream, fawn (also called Isabella) & cream, fawn & tan, red, wheaten, wild board, black, chocolate and fawn. Marking combinations include: brindle, dapple, sable, brindle piebald, double piebald and piebald. Also another trait people are not always aware of is that the sausage dog comes in the popular smooth coat as well as a long haired and wire-haired." ( iheartdogs.com)
Lurcher's are tall dogs with agile bodies
~Lurchers are tall and thin., a crossbreed between sighthound and usually a collie or terrier.  Originally used as hunting dogs – they were bred for their high-level hunting skills.  Lurchers can have short and long coat and coat colour can vary a lot.
Dachshunds come in Three Sizes
"Many people are so used to seeing a miniature Dachshund, they forget that the standard size exists, and it can be almost triple the size of the mini. The mini is usually around 11 pounds and hunted small vermin while the larger, 32-pound dog hunted badger. In Germany, they come in a third size, in between the miniature and the standard.
The name Dachshund comes from the German "Dachs" meaning "badger" and "hund" meaning dog." ( iheartdogs.com)
The name Lurcher's comes from
~Lurchers were originally associated with  English poachers and gypsies in the early 18th century. The crossbreed's name comes from the word lur meaning "bandit" or "thief."